Fabrice Praeger, Graphic creativity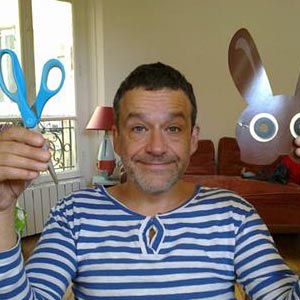 Fabrice Praeger graduated high school specialising in philosophy and then went on studying design at the National School of Industrial Creation ("Ensci - Les Ateliers") for 6 years. After completing his education, he spent 6 months working with the renowned "Graphistes Associés", former members of the Grapus collective.
He likes to define himself as "human-ideas", a concept coined by the Austrian architect-designer Hans Hollein. His work combines words, images and objects, and finds itself blurring the lines between graphism, design, advertising, "naming" and event planning.
He has worked for numerous prestigious brands and leading names in their industry among which Libération, Agnès b., Amnesty International, Doctors Without Borders, Polydor, Sony Music, Cité de la musique (la Villette)-Salle Pleyel, Le Monde, Technikart, Les Eurockéennes, W.W.F, Le Centre Georges, Christian Dior, L'Opéra de Paris, Guerlain, etc.
After André François in 1996, Alain le Quernec in 1998 and Ronald Curchod in 2001, the city of Chaumont, city of posters and images, organised a travelling retrospective exhibition (in France and Belgium) commemorating Fabrice Praeger in 2002. The exhibit, entitled "Fabrice Praeger - INVENTING" came with a 300-page book.
Fabrice Praeger teaches graphic creativity to students in Master's Degree of Art Director in Graphic Design.